If you're looking for a recruiting CRM: at least check out HireSweet. Gem gets a lot of the love out there. They invest in that marketing and their system is solid. But when you really look behind the scenes HireSweet is a better overall product, and they haven't even scratched the surface. Do yourself a favor and at least trial them!
Sandrine Laroche
Head of Talent Acquisition @ Lutessa
I have fallen in love with sourcing again thanks to HireSweet CRM. We went from "pain, hopelessness, frustration" to "pleasure, motivation, satisfaction, efficiency".

When choosing a CRM, I compared Gem to HireSweet with simultaneous pilots. I chose HireSweet because, at the time, it offered slightly stronger functionality than Gem in a much more user-friendly package, and blew them out of the water on customer experience. The product has improved a lot since we joined a few months ago, so I'm confident HireSweet still has the best recruiting CRM available.

Stephanie Aubert
US Director, Talent Acquisition @ Inato
I've been with the company six months and HireSweet CRM helped us save at least on 3 hires that would have gone to agencies. Anytime we don't use an agency, we're talking savings of $30,000 on average per hire.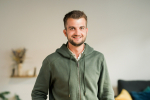 Quentin Vervialle
Talent Acquisition Manager @ Shipup
60% of the interviews I book come from my follow-up messages. I couldn't stay so organized and save so much time without HireSweet CRM!