I have purchased many of Jay Johnson's products over the years and the Mental Skills course has been the most valuable to me as a high school coach. 




The speakers are amazing! 




Thank you!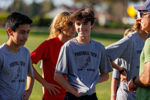 The best thing about this course is it allows you to be more confident heading into races which ultimately leads to better racing. 




This course is a great value because you get access to ton of helpful videos, like the guided visualization, that you can rewatch or re-listen to before each race.




This course helped me race faster this season because I was calmer and more confident coming into competition. This allowed me to get out of my own way and to race to my fitness level.
As a coach I found the course to be a great value. There were so many things I was able to take away that I know will help my athletes going forward. 




Helping athletes work on their mental skills is a very important and challenging part of the job and having this resource has really made a difference.