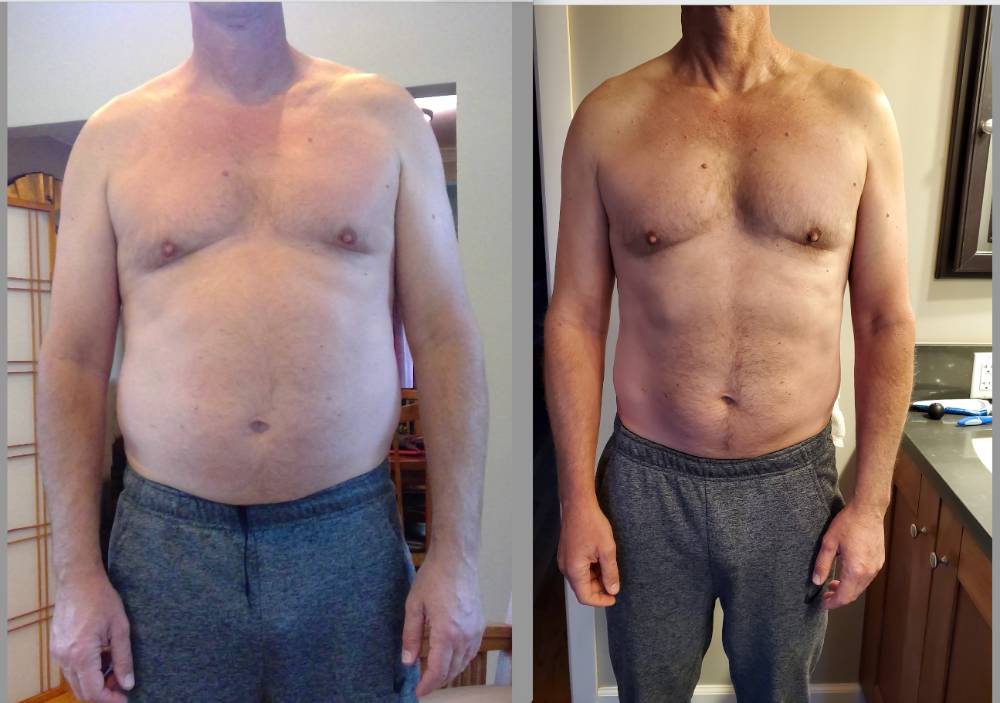 At 56 years old, things are different than they were at 35 or 45. Weight loss and fitness are more challenging and require more work, much more. It was a home video that really woke me up. It was like someone had inflated me, and I was disgusted by what I saw. I tried the solitary method of trying to get myself into the gym, eating better. It worked maybe 10 percent of the time and the weight was increasing along with some depression at the lack of change. I happened to be with some friends talking about the subject and Coach Ted came up. My friend is in great shape, runs routine triathlons and marathons. I thought, why would you possibly need a health coach? Diet, accountability, positivity, and motivation were the reasons. So I signed up. And I am finally on the path I want and need. Weight is coming off (1/2 way to my goal), I'm eating better and am in better shape than I have been in years. No regrets.
My main goal was to lose 15 lbs and jumpstart my exercise routine. I have reached my goal! Ted's response time is almost immediate. Whenever I needed an extra push, he would text me every day. The best thing about my experience is learning about macros and the accountability that comes with the program.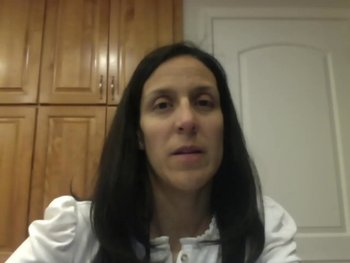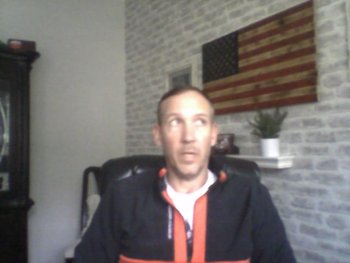 Ted is the DREAM HEALTH COACH. I am definitely not the dream client though; my work/life balance is chaotic. I did my best to at tracking Macros & recording measurements. Through his coaching platform, his commitment to me, my goals and diligent reminders, he helped me lose weight & INCREASE MY MUSCLE MASS!
My goal is to get my body fat down to 20% and so far Ted's program has helped me to see food differently through his MACRO program. I now realize that by tracking my daily food intake and understanding the food I eat will help me be successful in the long run. Overall, it helps me to be more intentional about what I eat. Also, Ted's check-ins keep me accountable and focused.
I didn't have 40+ pounds to lose, or huge weight shifts, or 5 sizes dropped, but I can tell you that I learned how to better control my food intake, managed what I ate much more precisely and learned to not be afraid of food or carbs. I also learned that my food adversity towards carbs caused my own body to work against me, and it is taking me sometime to work through that, in order to become a better me, a me that understands better why my body does what it does.. Having coach Ted assist me and being there with explanations and tweaking things for me as we went through the program definitely helped me.
My goal is to get rid of belly fat and increase muscle tone. So far I have reduced belly fat and increased muscle definition a bit. Coach Ted, you have been an amazing coach, guiding me through the process and answering very question in a timely manner. Very accessible as well. I really like the progress feedback via video, it definitely makes it more personal. Thank you.
Deciding to work with Ted and The Macro Solution method was exactly what I needed! Ted was very patient with me and taught me a much better way to approach weight loss, health, and most of all mindset. Instead of consistently reducing my calories and macros, he did the OPPOSITE and increased my intake to a level I had never dared to eat before and guess what...It WORKED when nothing else would. I had been spinning my wheels without making any real progress until I met Ted and implemented his plan. I did not have to give up my favorite foods, instead I learned to incorporate them into my plan. No food groups are off limits and I am rarely hungry. My clothes fit better and I just feel better in general. Lastly, Ted is an amazing coach. He provides encouragement without being fake and never judges you for slip ups or mistakes. Feel confident about working with Ted, you will not find a better coach. Thanks for everything.
Working with Ted was an awesome experience. He is a wonderful coach who is super easy to work with, extremely responsive and knowledgeable. I'd happily recommend his services to anyone who's in need of coaching for their nutrition and/or fitness goals!

After Covid, like many people my weight had gone up. I was having a challenging time losing the 10 pounds of Covid weight that I had acquired. Ted helped me with my food tracking and provided nutritional & exercise tips. He also customized the plan considering I am now 46 and took in consideration age related changes that could be happening. Ted is positive, checked in with me regularly and provided that extra that has really helped me get to a better weight and improve my overall health. I would highly recommended Ted & best of luck in your upcoming health journey!
I have been holding onto this weight for years. Then Covid-19 called upon us, and I began working remotely from home. The pounds continued to creep up from the long hours of continuous sitting and constantly munching all day long. Then to get off work late, eat dinner and go to bed. Only to get up and start over again the next day. At first after reading all the paperwork outlined and Macros for the day I said, "I don't know if I can do this." Then I thought, "no girl, you are going to do this." So thus, Macros nutritional eating and exercise began. My goals were to gain knowledge and implement correct eating to lose weight, improve my overall health, have more energy, and decrease stress. Coach Ted gives me the time, attention, and suggestions. We openly discuss any concerns I may have, or he may see. He gives me his expertise, advice and recommendations and I find them to be very positive and encouraging. I feel empowered and accept the responsibility as I implemented and progress in this journey to a healthier me. I like being able to communicate with emails, weekly virtual coaching calls, and the sent emails from coach with helpful and inspiring information. Words can't express the gratitude I feel for Coach Ted with his knowledge and expertise in guiding me on this journey.
I found Ted when I was 6 months postpartum and stuck at a weight despite working out. Ted responded to me quickly and even took time out of his own vacation to help me! Not only do I feel like I'm not really dieting, but I'm often shocked at how large my portions are! Also, I almost immediately got below the weight I was stuck at and am well on my way to losing all the baby weight! So grateful I found him!!
Working with coach Ted was by far the best decision I have ever made. I have struggled for many years working out endlessly and trying so many different meal plans and diets but nothing ever gave me the results I was looking for. I have been working with Ted for about 12 weeks and I have lost about 25 pounds. He really has a plan that sets you up for success and I'll tell you seeing the physical results week after week is so motivating. Aside from the physical aspect which is awesome, I cannot believe how much energy I have now and I just feel my confidence building from week to week. Work with Ted, follow the plan and I promise you will not regret it!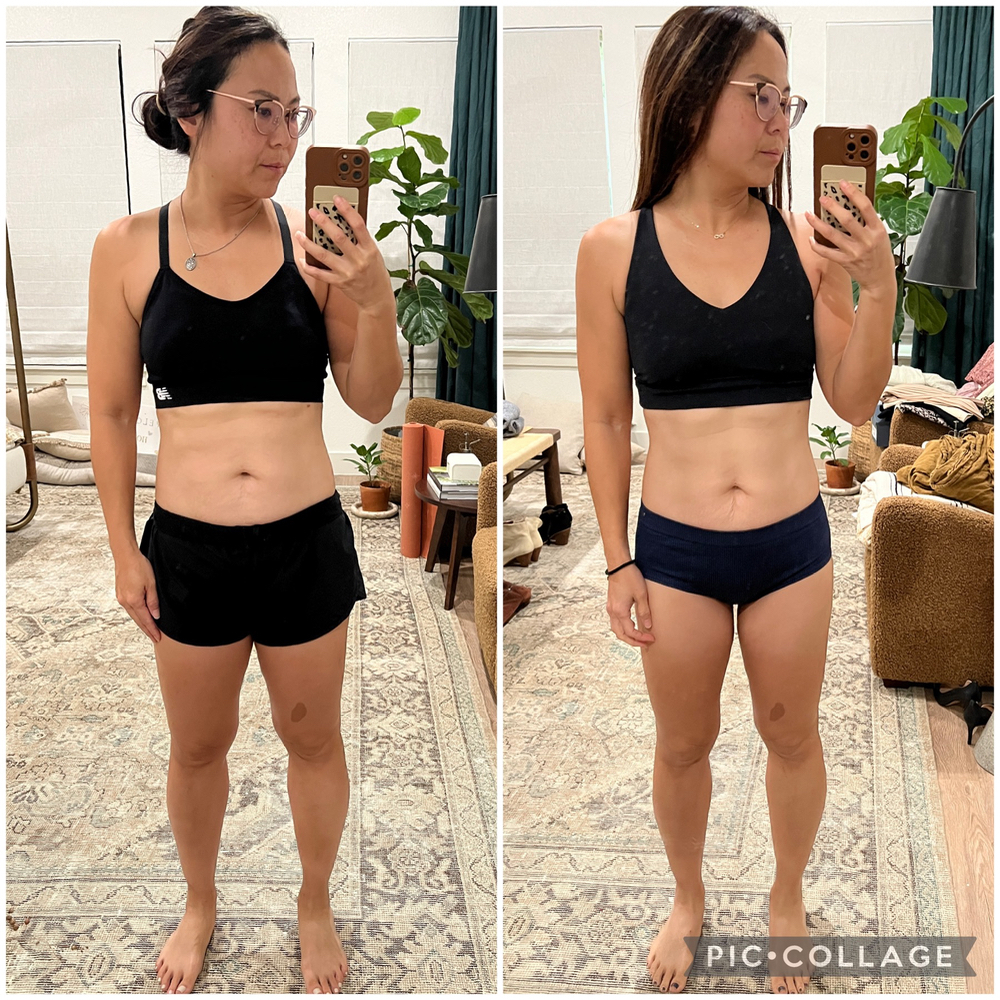 My husband had been a yo-yo dieter his entire adult life, and like so many others, he always believed that carbs were the enemy. I had heard that counting macros was the way to go and the most sustainable method of weight loss and maintenance, so I started searching for before and after photos of people who track macros. I stumbled across Ted's website and was impressed with the testimonials seen on his website. I encouraged my husband to contact Ted. Best decision ever! Not only is my husband down 17 pounds so far, but I decided to give it a go as well. I've always eaten lots of carbs, but never balanced my diet with the right amount of protein and fat. I've never been a heavy person, but I was what I called "skinny fat". As I approached 40, I was noticing the scale creeping up and decided I wanted to lose a good 12 pounds to lean up and get to my goal weight. Since hiring Ted, I've started working out 5-6 times a week, I feel strong and fit, and I have a good sense of what my body now needs to feel and look my best. I am super happy with the progress I've made over the last 3 months! It's been awesome having Ted keep me accountable, answer questions, encourage me, and teach me what I need to know about nutrition and fueling my body adequately. I don't feel like I'm deprived of eating my favorite treats, and I'm still making progress. I hit that 12 pound goal recently and couldn't be happier. And now I get to write my own testimonial. :) Thanks, Ted!
Ted has been an amazing mentor for me! Having my first child, he's really helped me progress and understand the importance of fuelling my body with the right amount of macronutrients. He is very responsive, encouraging and easy to talk to when working with him. He has been able to show me how to reach my goals without cutting any food groups out! He is super motivating and compassionate, I love working with him!! Working with Ted Is helping me reach my goals at healthy and sustainable way! Thank you Ted!
I had a great experience working with Ted for the last 3 months. I enjoyed learning more about the importance of the right foods to eat/ quantities. At the end I got to my goal weight but more importantly I feel great.
I would like to start off by saying I am very happy that I found Ted. My goal was to lose weight because I was at 214 when I started, and now I just hit 179 almost at my goal!!!! Ted helped me get my eating in control through macros, which at first was tuff, however now I'm very happy with my results. I liked that Ted was very patient with me, also that he is very experienced in helping people with their diet issues. I would very much recommend you give him a try because you won't regret it if you are willing to put in the work.
Macros works for me! I learned more about the nutrition importance when having a balanced macro lifestyle. I love it. I also now understand the importance of macros with my energy and sleep. Ted helped me with understanding all of this, and always answered any questions or concerns along with keeping patient witht he process. I was reminded changes aren't only on the scale, take pictures and over time you will see changes in inches lost and body composition. I am super excited that i lost eight pounds, and will continue to lose sticking with this lifestyle. Thanks Ted, so happy with the results.
After ordering countless diet books and trying more diets than I can keep track of, I realized that my endless cycles of yo-yo dieting would never end unless I made a change I could sustain. I was always searching for a diet that promised fast weight loss, not sustainable weight loss. I had lost (and re-gained) weight several times in my life and it was always because the plans that I was following were too restrictive and completely unsustainable. One afternoon I came across Coach Ted's website and was skeptical by the lack of gimmicks in his plan. It seemed a little too reasonable compared to all of the diets I had tried in the past. I decided to take a chance and signed up for personalized coaching that afternoon. I have been working with Coach Ted for almost 12 weeks now and am down 17 pounds! I was so surprised with how much I was allowed to eat and that no food are off limits. My initial goal was solely weight loss, but I have gained so much more from working with Coach Ted! His plan has taught me how to be a more mindful and intuitive eater. He has also helped me shift my focus away from the scale. Most importantly, I feel more balanced and in control of my diet than I have ever felt before! Coach Ted is always available and willing to help in any way to help you reach your goals. I am going to continue working with Coach Ted until I reach my goal weight. Signing up for coaching has been one of the best decisions I have made and I couldn't be more thankful for all of the positive changes that have come from this experience! I finally feel that I am on the path to sustainable weight loss and it is all thanks to Coach Ted and his plan.