The first time I read this, I read it in four days - that's unheard of for me. I have a whole pile of books that I've yet to finish. This one is just the kind of reading your soul needs. It's a wonderful mental snack to chew over and contemplate and take action. It'll encourage and empower you with a chockfull of anecdotes from Bullet Journalists and from Ryder. Ryder has a great sense of humor and his imagery is terrific. He shares a lot of personal stories that tie-in perfectly with the point he's trying to make and succeeds. I could praise this book from here until the next century, the bottom line is that it's a great read. It'll make you laugh, it'll pull at your heart strings, and most of all, it'll inspire you. If you feel like you're in a rut or just crave a lot of great insight about Bullet Journaling, there's no better place to get that than from the source himself.
I dismissed bujo as form over function because my exposure has been from Instagram and bloggers with dozens of colored pens at coffee shops. I made a mistake. There are lots of really good ideas there, even for those of us who aren't interested in the aesthetic aspect, and I think this quick book is really worth it for anyone. Lists and notes have been key to my sanity for a long time and I've immediately been able to leverage ideas from the method be more intentional about how I keep them.
Time will tell if I manage to stick with the bullet journaling habit, but so far I can say it has satisfied me to my deepest core. I was not looking to add this to my life, but when I first heard about bullet journaling, it instantly resonated with me. I bought the audiobook to learn more and find I am left with so many thoughts about living a more intentional life and setting personal and professional goals for myself. Since my kiddo will be heading for college in the next year or so, the goal setting conversation came along at just the right time. I enjoyed this audiobook and the concept of bullet journaling so much that I also bought it in hardback so I can use it as a reference or loan it out. This is good stuff, people.
I assumed this book would teach its reader the 'hows' of bullet journal, instead it focused on the 'whys'. On times it seems to neglect bullet journals all together, as it forced the reader to assess their reason behind all of their daily actions, and to why aspects of their lives weren't currently working for them. It is only later that he introduced just exactly how bullet journals could be an aid in curing that. Areas such as imperfection and control were covered and it really opened my eyes to how I had been bullet journalling wrong, all these many months. It made me realise that part of the bullet journal appeal for me was purely aesthetic. I loved to view artistic daily spreads, complete with calligraphy headers and washi tape dividers. For me, this didn't work because there was no 'why' behind my wanting it. Aesthetics wasn't enough and the reason I felt such dissatisfaction was that this particular bullet journal set-up had no purpose in my life and so I was ultimately failing to connect with it. It became just another chore I had added, without making my daily processes any easier. Bullet journalling is an extremely helpful tool but also an extremely personal one, which is why no two will look the same. This life guide/bullet journalling how-to instructed me on organising my day, better managing my time, and transferring my dreams into goals, which is what makes this perfect for amateur and expert Bu-Jo'ers alike.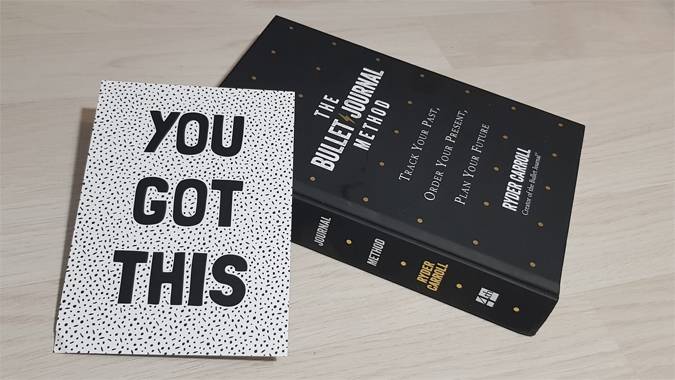 If you've already been using a bullet journal for a while, this book is still worth your time. I'd seen so many spreads on social media but The Bullet Journal Method was a welcome reminder of why this practice is essential to so many people: 'Whether you're an experienced Bullet Journalist or a newcomer, The Bullet Journal Method is for anyone struggling to find their place in the digital age. It will help you get organized by providing simple tools and techniques that can inject clarity, direction, and focus into your days. As great as getting organized feels, however, it's just the surface of something significantly deeper and more valuable.' As someone who works in marketing by day and blogs by night, having something which allows me to take some time and reflect at the end of the day is so important. It's easy to get overwhelmed by digital distractions and I love having an offline space to reflect and prioritise.
I wanted to start a bullet journal so naturally I had to read about it by the person who started the method. I was so pleasantly surprised by my love for this book. There are different parts to it. One part is more the how-to which reads a little slower and more like a textbook but not necessarily in a bad way. Despite there being a how-to, I appreciated there being an emphasis on making your bullet journal your own and using it for your ever-changing needs as it's adaptable for many aspects and seasons of life. Then the other main part (my favorite part) is the why of bullet journaling. This part felt like it was written for me. It may be because I also suffer from ADHD like the author or it may be that I just really resonate with trying to slow down and be mindful... Either way, if you're interested in starting a bullet journal or want to feel inspired to start one, I highly recommend reading this book!
I have been bujo-ing (is this a word now???) for two years without ever reading this book. I just used pinterest and youtube for inspiration. When I found out the creator of THE bullet journal concept came out with a book, I got curious. Could it actually teach me something new about bullet journals? Is there possibly some spread I never came across that would change my life? Turns out, it did change my life. The book was filled with so many scenarios and reasons why you might need the journal. From medical reasons to daily life. I never thought about writing small things that happened in my weekly spreads with my to-dos and events. It was interesting to just write down I had a great chat with my sister or how work was crazy busy. I never wrote full entries but just having a bullet with something is still great to look back on. There are "One Line a Day" spreads but I don't like feeling I have to find something EVERY DAY. I also liked how he explained the index and collections. I realised I was quite limited on what spreads I would do and how I think bullet journals should look like. But this really opened my eyes. Why not have a spread dedicated to random things whenever I want? Overall, it was a great insight to the original intentions of the bulllet journal and very easy to read and learn. I highly recommend!!
I finally found a method that helps me merge my love of organization with my necessity of scribbling notes and doodling. Seriously, I'm a former day planner freak who only wanted a space to write in...and this is a fantastic way to do that. I finished this book last night. There are too many good notes to highlight - my best moment of inspiration in this book was the mental inventory and working with taking stock of what's in my mental closet. The difference between vitals and everything else jammed in the closet made me want to do a few pages on what that is and why it's important. Really inspiring. Highly recommend.
I love the simplicity and depth of the Bullet Journal Method. Easy to get started, but with incredible potential in the long run. The book has two parts: the first one describes the 'how', the second part the 'why'. I learned valuable lessons from both parts. But reading the book is just the first step; implementing it and working with it for a couple of weeks/months is what it comes down to.
I had never felt such a strong connection with a book before like I felt while reading The Bullet Journal Method. For those who do bullet journal, it's a good reminder of everything that you should do in order to be productive in organized. For those who don't do bullet journal, this book can really be a life changing experience due to all the functions that a bullet journal can have. 10/10 highly recommend 😁
What a surprise!! I am so amazed by this impulse read. Not only BuJo system is incredible but this guide to it is absolutely fantastic. It shows a depth of thought, delivers the message is engaging and delightful manner, with insightful quotes and side stories... Who knew?! Highest possible recommendation 🤩 Seriously, get yourself a copy (and a journal 📓 )