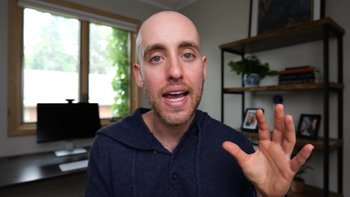 Another Brand Saved. 🙌 The care and consideration taken by BrandThrive made this such an enjoyable process. Turning a feeling into an actual visual representation that portrays a brand in its best light is tough stuff. Miles nailed it. The process can be long and overwhelming, but I felt confident and secure the whole time. If you need someone to deeply study your current efforts while setting your brand up for its best future, BrandThrive does precisely that. I'm forever grateful to Miles for his expertise, empathy, and excellence in all things branding.
Miles does a great job at practicing what he preaches, and leading you through exercises that help capture the essence of what you or your company are about so it feels authentic to you. Through the process, he is constantly reassessing and incorporating your feedback to build something that feels aligned and meets the brand's core needs. The end result was an awesome brand kit that will supercharge my online social media brand. I can't wait to start using the templates, graphics, and strategies given to me by Miles. I know they will make a difference. Anyone that is thinking about upgrading your marketing or brand game online, I recommend Miles with no hesitation.
Miles is an amazing person to collaborate with to enhance your brand's message. The exchange in cost for this brand kit was the best marketing dollars we've ever spent. Whilst working with Miles we @TeamSatoCO were able to join together to uncover our company's look and feel through his wide knowledge of branding. In addition, we integrated thoughtful iconography and give our company a refreshed foundation to build from. I would highly recommend Miles's heart-centered approach to business and innovative approach to marketing.
It was a pleasure working with Miles to update my website. He did an excellent job working with me to determine my needs. Our conversations were efficient and productive. He developed the website and got us online on time and on budget. He wasn't afraid to gently steer me on an appropriate course when there was a better direction. Our updated site looks very professional and I highly recommend Miles for your website design.
Working with Miles has been such a great asset to my growing business. Miles really held my vision and made it a reality. He is patient, supportive and encouraging. I hired Miles to create a landing page for my upcoming program RISE, he really took my vision and brought it to life. He helps you understand the value of creating an avenue for your business to grow. I would highly suggest his work!