Jessica Gillingham
Founder & CEO, Abode Worldwide
I love your high-level thinking, which is also very practical for an agency owner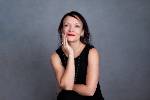 I do wonder if Steve is bugging my office or my brain sometimes....he just has a knack of speaking directly to the issues I'm dealing with as an agency founder, and offering clear guidance that helps me elevate myself above the business and gain clarity. As someone who always has one eye on the horizon and another on the day-to-day running of the agency, this method of high-altitude thinking fits beautifully with my instinctive way of working, helping me visualise problems differently and find solutions. 

The Agency Positioning briefing crystallised my thinking about our proposition, what we are here for and reminded me to keep things simple. It helped me articulate our agency's specialism and for the team understand the value of their skills and roles.

Kelly Hunstone
Chief Executive, Social Change UK
Fantastic, thought provoking session. I came away with some great practical tips and monitoring that I could put into place immediately. Am excited to see how these help improve our agency growth!

It's completely transformed how I forecast and monitor our financial performance. The dashboard helps me maintain a sustainable relationship between our profit, our people, and our reinvestment in the business. I can't imagine doing my job without it.

Had high expectations and it met them. A must-go for any agency leader.

Your newsletter is one of the few that I actually read. Really appreciate the work you do in the agency space!

I LOVED that piece this morning - a total penny drop moment for me.

Lysa Campbell
CEO, Retail Marketing Group
An absolute game changer! The most useful and insightful workshop I ever invested in - highly recommend to all my fellow agency leaders.