"Thank you for that great session today! I am really learning a lot and I mean the way of thinking about doing business. I appreciate your agency insights! I mean: I had a lot of trainings for sales and processes and automation. But never from an agency owner's perspective. That is so much worth! I promise that I will have a look at your other agency trainings. Maybe I come back with questions, which could help me most. I also would like to have a 7-million revenue agency."

"The agency course is incredibly well-composed. I can't believe how much I'm doing instinctively that you're teaching. It's fantastic to have some formal docs around the specific offerings with breakdowns linked to SOPs. Basically, you're a wonderful teacher."

"First just wanted to say thank you for all the great training. I still have lots to go through but Jeff's approach, style and demeanor are truly awesome. Also... a couple of the recent emails (especially the one about making time for your business and treating yourself as a client) was a very healthy and necessary reminder and the absolutely perfect time for me. Thanks for that as well. Its pretty awesome knowing that I am backed by someone (and a team) that has been through all the steps I am now going through as a small 2 person shop that is at 100% capacity."

"This program was amazing. I hemmed and hawed about registering but one day on a free webinar, Jeff shared valuable information and I figured that if he shared this much for free, imagine what you'd get in the course? I was right! On day 1 I shockingly had no regrets - anytime I've spent this kind of money (usually on business coaching) I am filled with regret. I finished this course and have zero regrets about the money spent! I can now better sell GA4 and better explain why pricing is so high - there is a great deal of work to be done. All of the skills learned in the class apply to any service I sell as well - added benefit. Without this course, I'd be 3 months behind where I am now.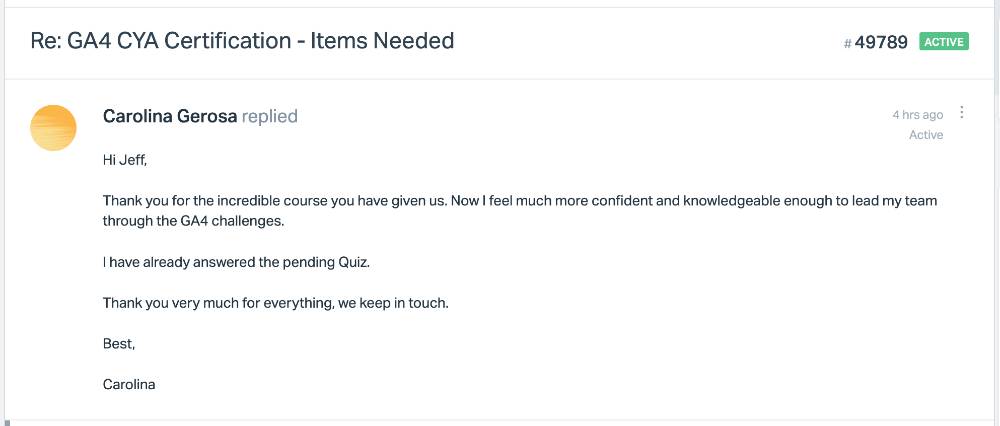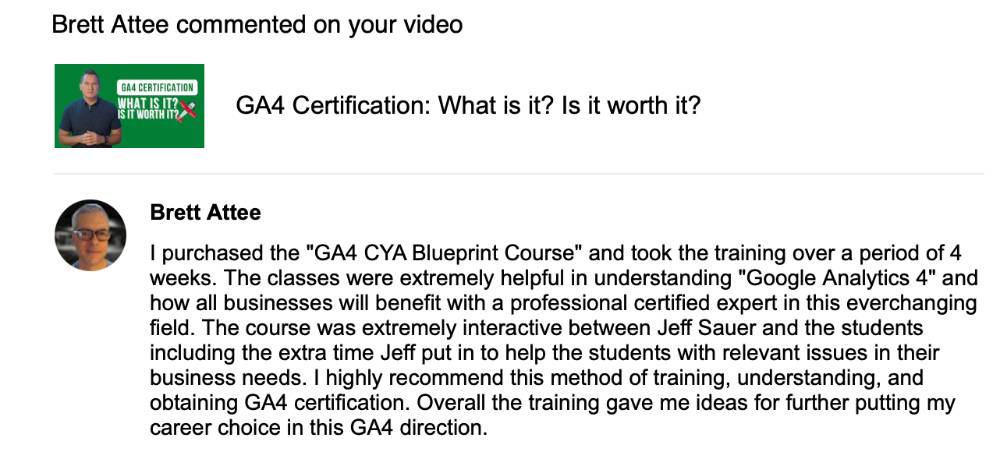 "A game-changer... we can hit the ground running before anyone has a chance to catch up." "At first, I was unsure of what to expect. I was impressed by the level of professionalism, diligence, and carefully considered structure in which the course was mapped out. I found myself pleasantly surprised by the wide knowledge Jeff had, not only in GA4 and the in-depth sales process, but the holistic understanding of other web sectors and how they hang together such as web development, SEO, WPO, and maintaining a humble manner while carefully considering every question or thought from the group. A partner had asked me to join this program, so we had the same understanding of how to plan out our sales strategy with GA4. Honestly, I did not expect to learn as much as I have, although I had some of the information before, this course opened my thinking, with the information I had already, introduced information I had not even considered, and brought it all together nicely into a well organised efficient set of processes. I should also mention that comments, questions, and general sharing from other group members sparked innovative thoughts. My biggest takeaway from this course is the understanding of the analytics sales processes and the tools set up. If I had not taken this course, I would have had to create all these processes myself and then evaluate over time to figure out what changes were needed. Then spend even more time creating all the standard operating procedures to expand, then figure out how to expand. And even then, my process would not have been as good as Jeff / Data Driven team had set everything out. This course was fun, informative, inspiring, interactive, and brilliantly executed. The amount of time, money, and effort saved from taking this course is a game changer as it means we can hit the ground running before anyone has a chance to catch up. The SOPs and the tools alone are worth the money.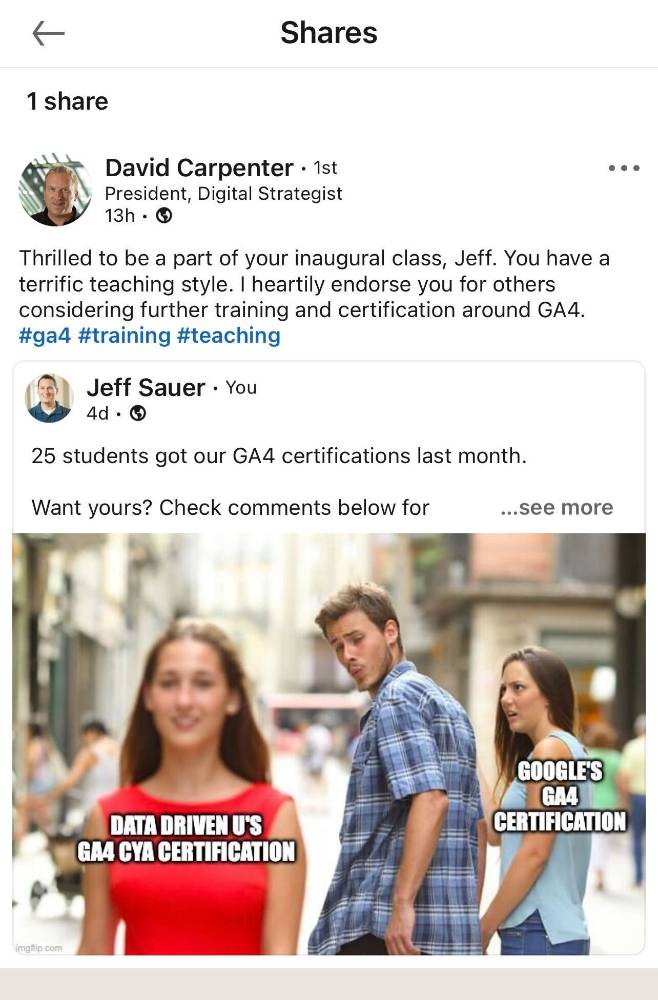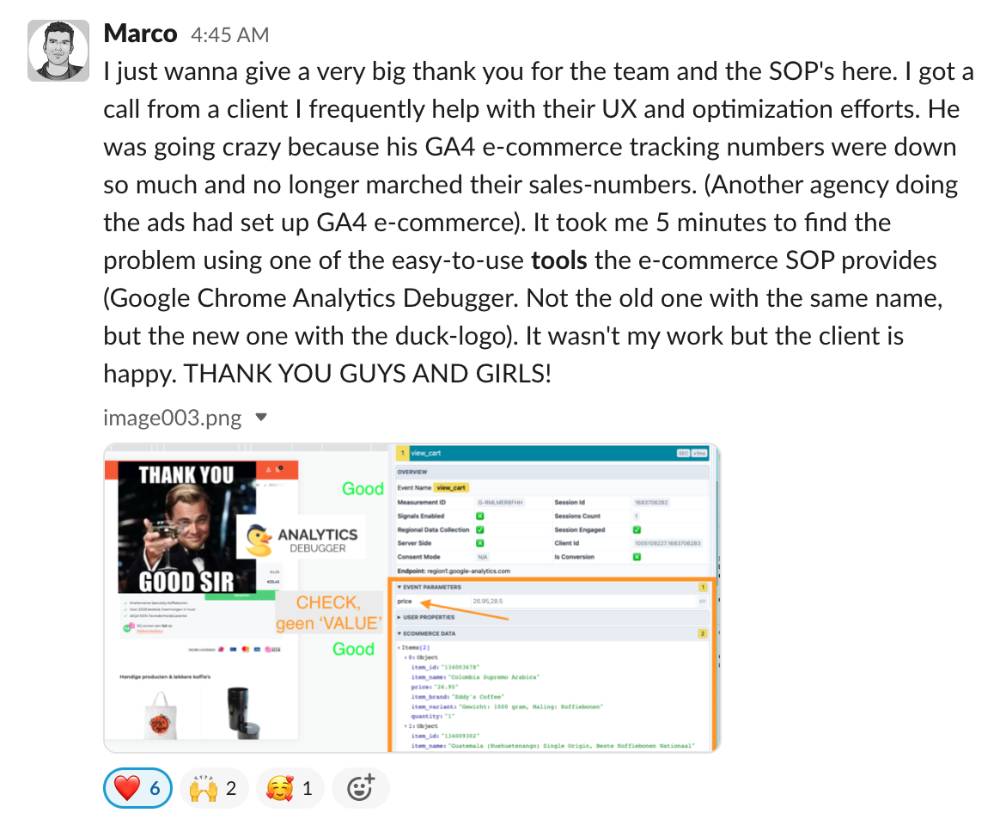 Absolutely - it feels like a secret weapon & why I maintain my DDU membership because even in busy periods when I can't focus on the formal learning content I know the slack group will always have my back for those tricky questions that platform support teams can never answer.
Short answer: Absolutely. Long answer: Gimme some time to write out how helpful this has been for me - but I'm grateful for this group.
Despite being totally overwhelmed for the last two months straight, I have still gotten more value out of the DDU slack channel than any other source of industry news. The fact that it's not just a place to take value but to add value gives me a huge sense of pride in watching it grow. Absolutely love it!

If the DDU Slack community were to suddenly disappear overnight, I would seriously be in mourning. It has become my extended superpower. It's almost like the Star Trek Series with the Borg. I need the voices of the DDU 'hive mind' :smile: :blush:
It's great that you're not alone at your desk, you can drop into the slack channel and ask a question and see if you have any input of questions others have asked.

There's tremendous value in the slack community. There is a ton of knowledge here and a willingness to openly share experiences and solutions. I've posted questions when I have needed a sounding board for solutions. I have ask tricky questions that needed technical answers. This community is a great resource, and I'm happy to contribute whenever I can.
After trying HubSpot and Wordpress communities a long time ago, Slack is the only community where I find it's worthwhile hanging out. Two things I love most about it: One: There's no ego. Second: No big expectations. It's just people sharing knowledge and being humble enough to recognize when they need help.
I am obsessed with this Slack channel. I've gotten so much help with so many issues. It's great to be able to post a question and know that other people actually understand the material you are talking about. I'm used to people saying, "sorry I have no clue." One specific issue I had that @Fred Pike helped me out tremendously was trying to figure out how to get data sent to my GA4 property on a huge news site where numerous articles get posted daily. The main issue I was having was getting the category data that you are able to set on the backend of WordPress sent to GA4 without going over data limits such as the 100 characters, 25 parameters with each event, and of course cardinality. Took weeks of testing data and then monitoring the data, but so far so good!!

Initially, I was hesitant about becoming a part of the Data-Driven U Slack community. I was worried that there might be too much information to handle, which could add to my already busy schedule. Despite my initial hesitation, I decided to give this community a chance and I am pleasantly surprised by the wealth of knowledge and networking opportunities it provides. The information shared here is not only relevant but also insightful without being overwhelming. I've had the chance to engage in meaningful discussions, learn from experts, offer assistance, and gain valuable insights that would not have been easily accessible elsewhere. Over the past year, Data Driven U has been an important part of my learning journey helping me stay focused and tackle GA4 implementation issues on my own. I appreciate how this community respects my time and provides value rather than overwhelming me with unnecessary information. It's become an essential part of my professional growth, and I'm grateful to be a part of it.