My name is Angela, and I am a 48 year old former stay-at-home mom (30 years) who is currently trying to figure out what I want to be now that I am grown up. :) Kind of midlife crisising here. My back pain is in my lower right side. I feel it most as an ache and need to move with caution in the mornings when I first get out of bed, but then it seems to go away except with unexpected movement. It is inconsistent with the movements that cause the pain, and I am able to repeat the motion without pain soon after the initial shock. I think it mostly stems from me sleeping on my stomach, so I have been trying to stretch and build up my core muscles more, which is why I signed up for this program. I am doing other options too, but was hoping to find some more tools to add to my arsenal. The biggest benefit is knowing which stretches/exercises will benefit the situation (the back pain), and I really appreciate how Joe was responsive throughout the process. I also am glad that I will have continued access to re-watch the moves should I need a reminder. Because I still sleep on my stomach most of the night, I have not been "cured" of my pain, but I do think if I stay consistent with the mobility tool kit, in addition to my other exercise program, I should be able to minimize the pain or duration of it. Joe has a great teaching style and is very responsive to feedback and questions. The exercises and stretches, if done consistently, should help you loosen up your hips and keep your low back more flexible, which will help reduce your pain.
The amount of information Joe has given away in the 5 years of following him is crazy. I joined his low back pain program to get a more structured routine for my low back. I was not disappointed. This is well worth the money times 10!
I'm Shannon, from Portland. I'm used to being on my feet all day, but the nagging lower back pain was starting to affect both my job and my overall health. I chose Joe's program over other programs because I've used his free tips online for years and trusted he would guide me in the right direction. There was no gimmick, just a solid plan to tackle the root of my problem. Since completing the program, I've felt more energized and active. I've even started back up at Orange Theory, something I had stopped due to my back issues! In a nutshell, I'd tell my friends, "If you want your life back, this is it. Joe's low back program gives you the tools and knowledge to beat your back pain once and for all."
Heather (39) after years of playing sports and stand all day jobs my low back was a hot mess. It was tight constantly, pain almost daily, barely walking for weeks at a time. I was paying a dog walker to walk my dog, just because I couldn't. I join Joes program hoping for some relief. I enjoyed the weekly videos, and would replay to follow along as they were preformed. It's not a difficult program, but it's well thought out and effective to stretch and strengthen the muscles in and around your low back to receive pain. I appreciated that there was also explanation videos of WHY you do specific things and how your muscles work together effectively. I found Joe approachable and very knowledgeable. Would recommend for anyone looking for relief and a little more knowledge.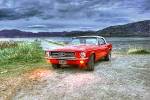 Hello there, my name is John, a 50-year-old civil engineer from Austin, Texas. I've spent a good part of my life managing construction sites, and over time, the physical demands of the job took a toll on my back. The low back pain was excruciating, especially in the mornings and after a long day at work. Simple things like tying my shoelaces or picking up something from the floor would trigger sharp pain. Leisure activities like golfing with friends or hiking, things that I thoroughly enjoyed, were slowly becoming out of my reach. Like many, I tried different things - various over-the-counter meds, yoga, even thought about surgery at one point. I follow Joe on Instagram and heard about the program. What set it apart was that it didn't promise overnight results, but a gradual, science-based approach to improve my back health over time. Two months into the program, and I've seen incredible benefits that I never thought were possible. Firstly, I can now wake up in the morning without wincing in pain, and that in itself is a massive win for me. Secondly, the program didn't just help me manage the pain - it empowered me with the knowledge to understand the cause of my pain and how to prevent it effectively. If I were to recommend Joe's Low Back Pain Program to a friend, I'd say, give it a go. You're not just signing up for another quick-fix solution, but a program that understands your pain and guides you through a journey to better health. The program doesn't make outrageous claims; instead, it teaches you the how and why of back pain, giving you the tools to take back control of your life. And trust me, the joy of less pain doing things I normally could do - that's priceless.