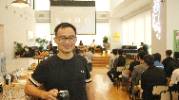 Nocode.ai is one of my favorite resources for checking in use cases using AI. Armand has done a good job in explaining complex topics like LLM in an easy to understand manner. The layout of the website is sleek, clean and easy to navigate. Please keep it up the good work!

Hi, I'm Irene, Head of Safety & Compliance at Airbus. NoCode has introduced me to the AI world and helped me to understand all possibilities available that could be applicable to the Aerospace industry. I'm also looking forward to doing the AI Bootcamp! Also, the Newsletter is a must read during my Sunday breakfast as keeps me posted on the latest news.

My name is Meiko and I'm an AI educator. I read everything about AI that I can get my hands on, including newsletters. There was one newsletter issue that I particularly loved by NoCode.ai and that was on creating an AI Business Roadmap. My goal is to help C-suite managers incorporate AI into their workflow and Armand's breakdown was very clear and succinct on how to do that. I appreciate the hard work and time he puts into every newsletter. I love to read different perspectives because we're all coming at AI with our own unique experiences. The best thing about this newsletter is that it broadens my world view.

NoCode is part of my news digest: it's a fantastic newsletter tha helps me stay updated with the latest in the AI domain.
I highly recommend the NoCode.ai blog and Newsletter to anyone interested in learning how to use the most powerful AI No-Code tools in the market for Data Preparation, Modeling, AutoML, and MLOps. Their informative and engaging articles, practical examples, and real-world case studies provide valuable insights and inspiration for building ai applications without coding.

As someone who doesn't code but is actively learning on how to use AI for business, I love getting ideas from this newsletter. I am also sure that if I read it I won't miss any important news that week on what had happened in AI world. What I like the most is that AI feels easy with NoCode, demystified. Cannot wait for the boot camp to call myself an AI champion😎