I've witnessed his journey of growing an Instagram page to over 1.1 million followers, making it one of the largest in his niche and can vouch for his expertise in this field. He has a talent at spotting opportunities and making money from social media and really understands how it all works.
Very helpful! DIP is the best I've seen for Youtube or Instagram growth and monetization. As an online entrepreneur, these growth strategies have been game changers.

I'm a digital marketing professional with 10 years experience . The Digital Income Project courses have given me all the information I needed to start Instagram and YouTube accounts that provide value for users and build a large audience. The best things about the courses are that they provide actionable information that's straight to the point and is based on what works today.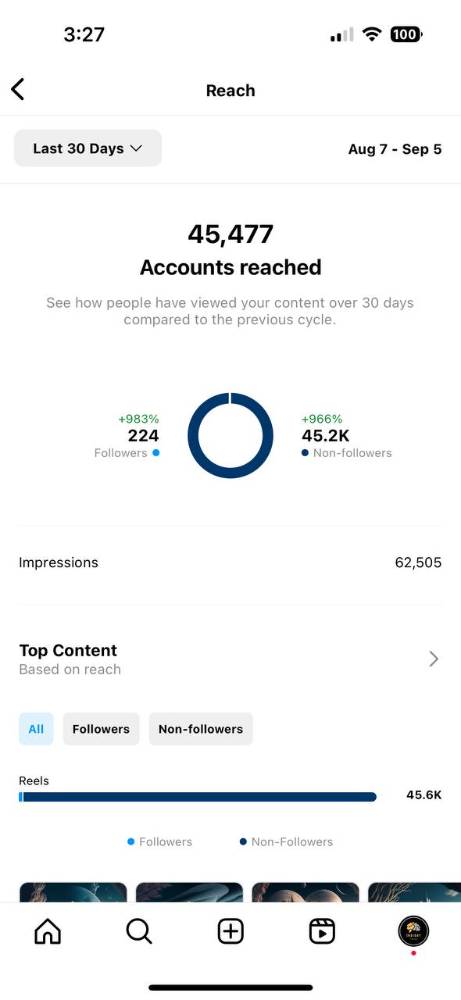 Knowing the algorithm was definitely one of the most valuable thing inside DIP's course. I was able to grow my first Instagram account with only AI to 500 followers in the last 2 months. Couldn't have done so without DIP, definitely recommend!
I am a young adult who has been working on posting on the Wealth Motivation niche for 10 days now. The program so far has given me a deeper insight into what the algorithm values more, and also gave me organisational things I wouldn't have thought of like the Ikigai sheet for example. The thing I like most about the program is that it can be completed at your own pace. With the knowledge I have gained, I am able to better understand what I should and should not add on a reel. I was able to grow my account to 1k followers in 8 days recreating what was trending in my niche and other related niches. While, other accounts struggle to make 1k in months.

Hello, my name is Jadrian and I am currently working on building a strong audience for my social media brand.. this program has helped me tremendously and I have nothing but great things to say about DigitalIncomeProject.. the best thing about this program is the valuable information that you won't find anywhere else.. I have managed to go from 5000 followers to over 100,000 in just 3 months and my audience continues to grow exponentially. All love DigitalIncomeProject
I'm working on an Asian culture-themed account. The program was so helpful in figuring out how to approach building for the right audience and making interesting videos! The best part of it is how practical/hands-on everything is. It's easy to follow every step. I feel ready to take this account to the moon!
Hi I am Ali and I am a talkshow host and magician. At the moment I am working on a theme instagram page based on how ancient advice by famous people from history can be applied today. This is just a test run. Then I work on a new insta page on a topic that I like better and I believe to be easier to monetize. The program helped me understand what criteria the post nedds to performan good. The program is not longer then necessary and on point which I like. I don't like when other curses spend more time then necessary on something simple. It feels like they just want to fill it out with something to make it longer without adding to much valuable information. Most of all it helped me level up my game just by inspiring me. It made me understand better so I have more trust in that this can earn money. Atm I am just making what I am going to post by using canvas and midjourney. I like having them premade.
Hi, I'm Chris and I'm working on building an Instagram theme page. This program has helped me immensely. I was super lost as to where to get started and it helped cut out HOURS of wasted time and effort. I really appreciate this program. As for results, well, I just got started so we'll see how it goes from here! (But I do have high hopes)
I purchased the course in hopes of becoming a creator that can still find success without compromizing my privacy with faceless content. I've grown a faceless TikTok account before, however, in terms of monetization I really struggled. This course has helped me understand how I can monetize my current audience as well as introduced me to different exit strategies as well which has been a game changer.
I'm Noah. Been into Instagram theme pages for over a year now, already had pretty decent knowledge about them, but decided to buy the course just to learn something extra, more knowledge never hurts. The course was very well put togetger, explanations were clear and in depth from my perspective, only thing that lacked is more visual demonstrations, for me it's not necessary but for beginners it would make things a bit more clear in some steps. In general I still learned a couple new things about the algorithm and monetization as an experienced person. So for beginners I am sure it would be a game changer. Recommend it💯
I am Felix I am working on my faceless instagram channel. The channel is about motivation. The best thing about the program is that the useful information about building an account is available just in one ressource. There is no need to search the internet for it since its all included in the program. It saves much time. Since I bought the program during a time I already had an faceless instagram account I already knew a few things included in the course. But one of those things I didn't knew about was that it's useful to have just one account-avatar. For me this information has a huge value and I immediately adapted my account to it. I was able to bring my account on another level with the information in the course about monetization, follower communication and the avatar of an instagram account. I have a faceless instagram account that has gained 2000 Followers in a matter of days. And its still growing…EVERY DAY.

I wrote a book last year and have been trying to figure out how to get organic traffic to it. This program has been incredibly helpful in getting new people to become aware of my book. My reels are now averaging a few thousand views and take me a short time to create. I strongly recommend this course to anyone looking to build a following on social media as I have already seen an ROI for what I paid.
My name is Dave Fin, Affiliate Marketer. Currently working on a few projects including YouTube + Instagram. I came across Digital Income Project [D.I.P] via a YouTube video about AI content creation which revealed easy ways to create ideas, content and videos using various AI tools so I decided to buy the program. The program is a very honest, indepth, no fluff approach to creating content using various AI tools. After going through the training, I was inspired to start taking action and following the process to generating the type of content covered in the training after hitting a blank on ideas and content. Progress has been a little slow due to me having other commitments but overall, I am taking time to invest more thought into the content to produce better results rather than rushing to create poor quality content. I would highly recommend anyone who is serious about generating income / better video content to get involved in the Digital Income Project.